Schedule An In-Home Measure
A little care and maintenance will keep your laminate flooring looking great for many years to come! Follow these simple tips to establish a preventative maintenance routine while preventing stains, damage, and more.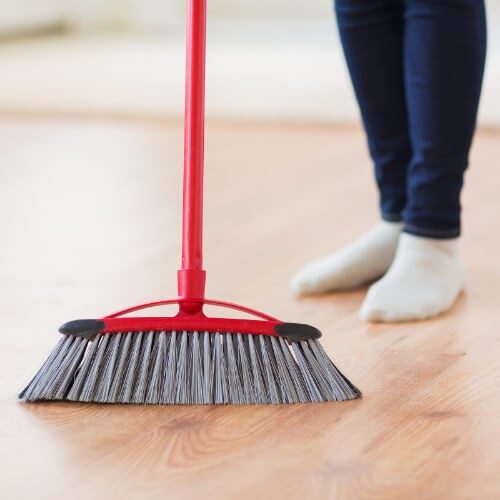 Establishing a care routine
The most important element of laminate flooring care is your regular cleaning routine. With just a few simple steps, you'll be able to keep your floors in top shape for beauty & optimal performance.
Sweep, dust or vacuum your laminate regularly to prevent dirt from accumulating & scratching the surface.
When vacuuming, use your machine's hard surface attachment – not the beater bar.
Never wash or wet mop your laminate with soap or other liquids. These can cause swelling & warping, voiding your warranty.
Never use steel wool or other abrasive materials on your laminate.
Never try to buff or polish the surface of your laminate.
When in doubt, always consult the manufacturer's guidelines that came with your laminate product.
Dealing with spills and stains
Spills are practically inevitable, and if not dealt with promptly, they can lead to stains. Here are a few tips for dealing with these types of messes.
When spills occur, immediately blot the material up with a clean cloth.
If the cloth alone is not enough, dampen it lightly with warm water.
Never allow liquids to stand on your floor if you can help it.
Tough spots caused by oil, paint, markers, lipstick, ink, tar, wax, or gum may need to be dealt with using other tools or solutions. Consult your manufacturer's care & maintenance guidelines for more info about how to tackle these stains without damaging your laminate.